Senior's Fellowship
If you are over 55, we warmly invite you to join with us. The gospel of Jesus' love, demonstrated on the cross, is to affect us at every point of our walk through this world. We have identified three areas that are important to seniors and have activities planned that we hope will be helpful to you in this season of life:
Teaching
First, we all need sound biblical teaching and practical instruction. We want you to be well equipped from God's Word as you face the unique challenges ahead. Regular seminars and monthly luncheons provide opportunities for spiritual growth as well as help in practical areas like finance and health.

Fellowship
Secondly, we invite you to join us for fellowship—and fun! We plan outings like bus trips and river cruises just to spend time together, develop friendships and reach out to others who may be looking for new friends.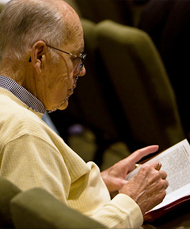 Serving
Finally, no matter what age or condition we may find ourselves in, serving others demonstrates a love for the Savior and leads to joy-filled lives. We want to help you become involved with our church's mission to spread the gospel in meaningful ways. Opportunities for seniors to serve abound at the Church.
In all these ways our hope is that the gospel of Jesus Christ will impact your life and draw you closer to Him.