Local Mission
As followers of Jesus, we are people who have been deeply changed by His love for us. One great change is that we want to share the great love we have experienced with people in our community and the world.
We believe loving our community is for everyone in the church and the diverse range of passions, skills, and resources represented. We want to equip and empower every member to participate in loving our community.
Children (Discovery Land)

Welcome to Discovery Land, where kids explore God's story. We truly want to make the 90 minutes your child spends with us the best time of their week!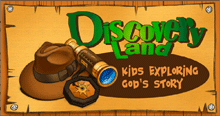 How do we do this? Through age-appropriate teaching in safe environments, we partner with you to teach your child God's Word and his amazing plan of salvation through Jesus. We want to assist you in the work you are already doing at home (Deut. 6:5-7). Your child will be taught through The Gospel Project curriculum, along with music, drama, object lessons, games and more. It truly is a lot of fun!